ARC 605-1– An Age Friendly West Side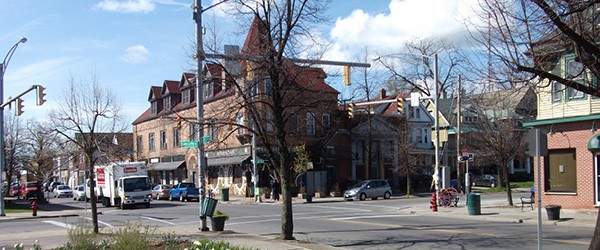 Course Details
Course No.: 10173
Department: Architecture
Semester: 2017 Fall
Location: Hayes Hall – 420B
Meeting Day(s): Tuesday & Thursday
Meeting Time: 2:00PM - 7:50PM
Faculty: Steinfeld
This studio will explore how urban design and architecture can rethink older neighborhoods to accommodate an aging society. The studio will be coordinated with the Age Friendly Erie County initiative, a partnership between the IDeA Center, the Erie County Department of Senior Services, People Inc. and AARP. The focus will be on the culturally diverse West Side neighborhood of Buffalo.
Students will first study the rationale and tenets of Age Friendly Cities, a program developed by the World Health Organization as a response to the rapidly changing age structure of developed and developing countries.
The class will complete an analysis of current needs, resources and challenges for aging on the West Side, including the transportation network, social and recreation opportunities, health care, food resources and housing. Students will then identify strategic architectural and urban design interventions to improve aging in place in the neighborhood, develop design concepts and share them with stakeholders in the community and countywide.
Students will work in teams and individually to produce:
An urban design plan for the case study neighborhood, including pedestrian and vehicular transportation systems, adjustment of land uses, and strategic new buildings
Proposals for innovative programs and services like multigenerational social settings, new forms of assisted living and grass roots ride sharing
New or adaptive re-use building design proposals for housing, health care, mixed use facilities and recreation
A pattern book of concepts and details for streetscape interventions