ARC 606-5– Urban Design Studio: A Super-Greater New York 2018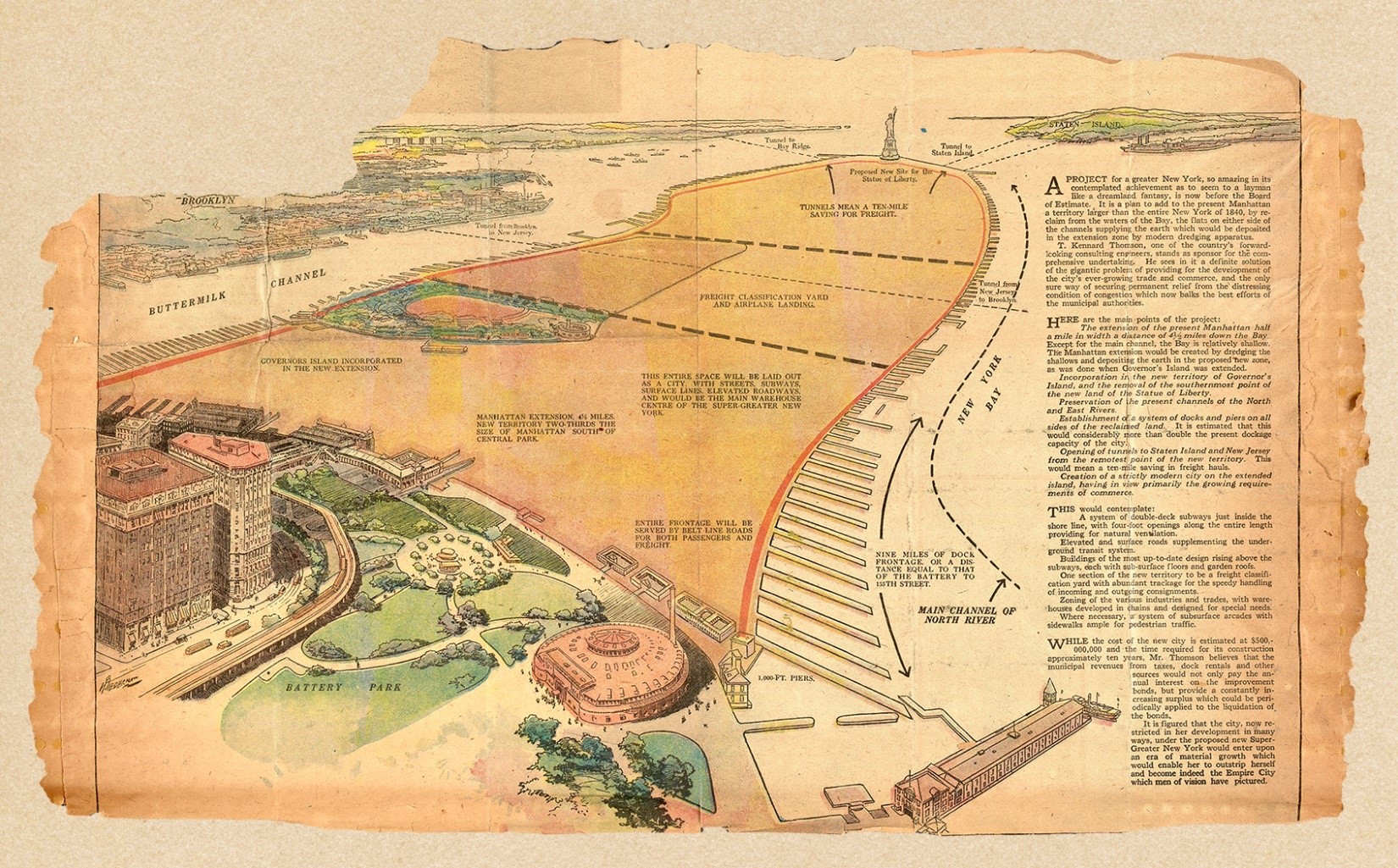 Course Details
Course No.: 22619
Department: Architecture
Semester: 2018 Spring
Location: Hayes Hall – 205B
Meeting Day(s): Tuesday & Thursday
Meeting Time: 1:00PM - 6:50PM
Faculty: Delaney
Faculty: Delaney
In April of 1911, civil engineer T. Kennard Thomson published a vision for Manhattan that remains as striking today as it was then. His proposal: stretch the island of Manhattan four miles south into the New York Harbor. In 1914, he made the plan even bolder—adding to the proposal that the East River be filled in entirely! The above image, published in a 1918 issue of The World, even suggested the relocation of the Statue of Liberty. And on October 30, 1921, the front page of the Sunday New York Times was dedicated almost entirely to a drawing of the plan printed alongside a lengthy justification by Thomson and Walter Russell, the president of the newly formed Manhattan Extension, Inc. In short, Thomson's proposal was studied, calculated, extensively promoted, and entirely serious—one that became his lifelong obsession.
While the plan may at first seem absurd, it's important to note that Lower Manhattan's present-day limits are the result of a series of expansions that began as early as the eighteenth century. Additionally, the southern two-thirds of Governors Island, recently redesigned by the Dutch landscape architecture firm West8, was reclaimed from the bay with excavated material from the digging of New York's first subway line under Lexington Avenue. Nearly 90% of Ellis Island is artificial—also born from Manhattan subway development. Parts of FDR Drive were even built on rubble shipped from England after the bombing of Bristol in WWII. And while these represent relatively small land reclamations, for other cities, reclamation has yielded much more extreme results. Take the massive land-moving effort of Boston, for example—where the city's original peninsula has more than doubled in size since its founding! Even this is dwarfed when put into context, as it represents just 500 acres of the city's roughly 5,250 total acres of reclaimed land.
In this studio, we will revisit Thomson's project for a Manhattan extension. And while much of his reasoning retains relevancy more than one hundred years later, New York has evolved tremendously over the past century. New questions ushered in by the twenty-first century and the prospect of the city's future beg for investigation, all in the pursuit of—to quote Thomson—a Super-Greater New York.