END 593– Real Estate Development Capstone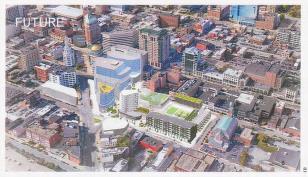 Course Details
Course No.: 22769
Department: Architecture, Urban and Regional Planning
Semester: 2017 Fall
Location: Hayes Hall – 302
Meeting Day(s): Tuesday - Thursday
Meeting Time: 2:00 PM - 7:50 PM
Faculty: Foerster, Hata
Once the UB medical school moves to the new Buffalo Niagara Medical Campus, what will happen to the center of the South Campus? Can those buildings be demolished and the land redeveloped with a mix of non-academic uses, including high-tech office and incubators, hotel, retail and/or housing that would serve UB, and its faculty and students? How does this type of development become transformative to the campus life and the University Heights, and create economic value?
These and related questions will be answered in a joint studio in Real Estate Development and Urban Design. Students in MS/ARC in Real Estate Development and advanced students in MARC, MUP and dual-MARC/MUP programs will collaborate on a design/development proposal, in a manner regularly seen in cutting edge projects, where architects, planners and developers work closely to produce outstanding projects that are financially feasible and have great campus design and landscape characteristics.
Real Estate Development students will learn how to work with urban designers, and critical processes and elements for producing successful proposals in urban design and planning.  Teams will address the feasibility of developing a real site for an actual client.